Glasgow, say hello to Casa, Vista Park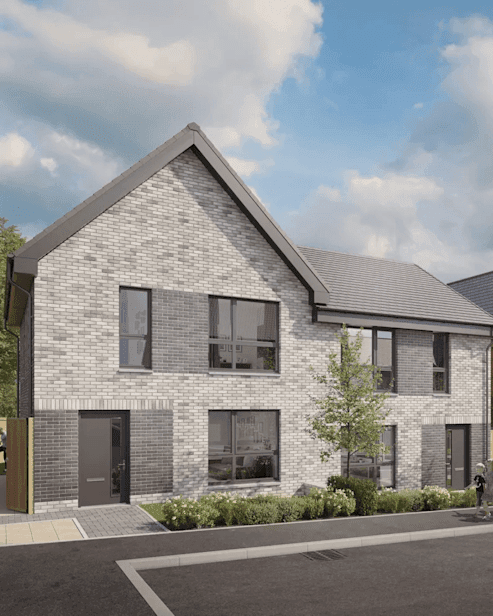 Say hello to Casa, Vista Park! A state-of-the-art new rental neighbourhood in Springboig, Glasgow, where we'll be bringing a new generation of rental homes to the region for the first time. The new £41m neighbourhood will offer Casa residents deposit-free, pet-friendly living as part of our inclusive offer designed to prioritise health, wellbeing and sustainability.
Located near Springboig, towards the east end of Glasgow, Casa, Vista Park will comprise a mixture of one- and two-bedroom apartments, alongside two-, three- and four-bedroom houses for rent, with community spaces including a wildlife area and two play parks suitable for families and young children to enjoy.
With bus links on its doorstep, Garrowhill and Shettleston train stations a short walk away, and a mere 15-minutes' drive to central Glasgow - Casa, Vista Park offers well-connected to varied, reliable and efficient links for commuters travelling back into the city.
Casa, Vista Park marks the first time a single family rental model has been offered in and around Glasgow. As custodians of the communities we operate in, we aim to pioneer positive change to the rental market and improve the way people live for the long-term.
CCG Group originally purchased the land as a private residential development for CCG Homes, its private housing subsidiary. Following the sale to Moda Living, we will now collaborate with CCG to complete the new neighbourhood, regenerating the 6.5-hectares of brownfield land.
Our Casa, Vista Park residents will benefit from several of our brand partnerships, including Utopi's market-leading tech platform. In a first for the industry, smart technology is installed in every home to monitor air quality, energy usage and carbon emissions – while also being able to pre-empt maintenance issues and provide live data reporting via the MyCasa app.
The bespoke MyCasa app has been designed to make our residents' lives as easy as possible by providing them 24/7 access to speak to customer service and report maintenance at the click of a button. The MyCasa app also enables residents to pay rent, take advantage of local, regional and national brand partnerships, and also provides the option to conveniently book at-home services, such as dog walking, window cleaning and gardening services.
With renters often reporting their battle with loneliness, the MyCasa app will also allow residents to share their own news and events via the community forum – helping them to truly get to know their neighbours. As a long-term operator, we will also organise community events – from arranging for local food vendors to run pop-up stalls on site, to organising outdoor fitness workshops for residents through our diverse range of partners.
Johnny Caddick, Chief Executive at Moda Living, said: "We're incredibly excited to be bringing Casa by Moda to Glasgow for the first time. There is significant undersupply of quality rental homes across Scotland, and in Glasgow in particular. With rental prices on the rise, residents want and deserve to be sure that they are getting value for their money and long-term security. At Casa by Moda, that's exactly what we're committed to delivering.
"Our Casa, Vista Park neighbourhood will deliver quality, sustainable homes in a vibrant and inclusive community, harnessing innovative tech to provide a standout offering with health and wellbeing at its core. We can't wait to welcome our first residents later this year and look forward to seeing Casa, Vista Park become a thriving community which enriches the lives of the people who live there."
Single Family Rental (SFR) is a relatively new concept in the UK and sees developers own and operate neighbourhoods in suburban locations, as opposed to the city centre locations with which build-to-rent is closely associated.
CCG will complete the neighbourhood with the new homes being delivered for Casa to market-leading standards of energy performance thanks to in-house construction and manufacturing technology, which assures lower emissions and lower energy use, augmented by the integration of solar PV panels as standard, which further supports a reduction in energy consumption and cost to Casa's residents.
Calum Murray, CCG Director, added: "Single Family Rental, given the necessary support of Government, is a major emerging market for housing and the construction sector in Scotland.
"We are delighted to be working in collaboration with Casa by Moda to bring this innovative family rental model to Glasgow for the first time. The level of investment created by this partnership, is particularly significant for our business, for the housing market and for the city of Glasgow, especially in the east end where our commitment to provide high-quality homes and sustaining jobs is hugely important for the local economy.
"Through our engagement with the city and the community from the outset, we are aware of how positively this new development is welcomed locally. Casa, Vista Park will be transformational and presents a real opportunity for families in Springboig and further afield to live in quality, efficient and spacious homes in a unique, and highly-accessible setting."