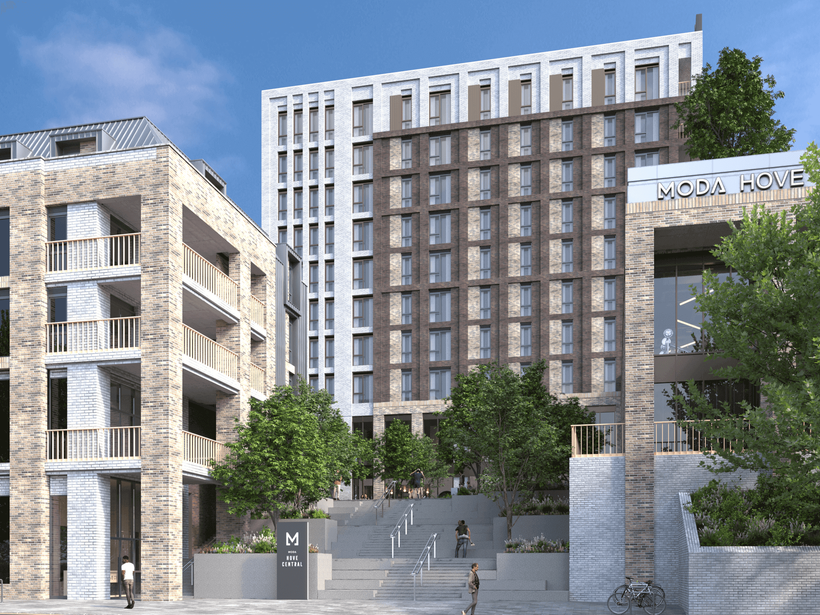 Brighton
17,000 sq ft amenity space
50,000 sq ft commercial space
Construction partners
Midgard
Architect
Whittam Cox Architects
Status
Under construction
Moda, Hove Central will breathe new life into the disused Sackville Road Trading Estate, regenerating a prime piece of brownfield land into a thriving rental community of more than 800 homes.
is set to provide more than 800 stunning new homes to the city of Hove, including 564 build-to-rent and 260 community care homes, as well as extensive public gardens and a main boulevard leading to a large public square, office accommodation, workspaces, shops and cafes.
The nine-acre brownfield site on the former trading estate which is conveniently located next to Hove Station and is just a few minutes' walk from the seafront. Funding for the site purchase was provided by Apache Capital Partners.
As part of its planning agreement for the neighbourhood, Moda Living signed the largest planning contributions deal Hove has seen from a private company in more than a decade. The business will contribute more than £10 million to local investment in infrastructure, public realm, education, public art and supporting the local community.
Midgard has been appointed lead contractor on the project, with completion targeted for early 2024.