Introducing new rental homes by Casa by Moda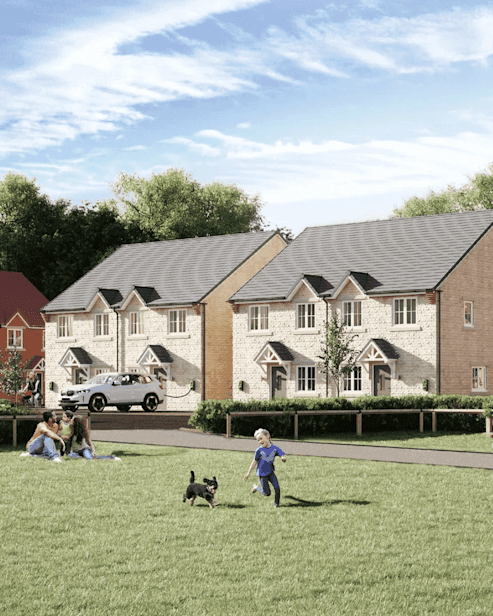 We're setting a new bar for rental housing in the UK. Casa by Moda aims to address the nationwide housing shortage, providing much-needed high quality 1-4 bed family homes at an accessible price point for renters.
We'll deliver an initial 5,000 new family homes for rent in target suburban markets by 2025, which will have a combined value of £1bn. Our neighbourhoods are designed, developed and operated by Casa, which is part of leading build-to-rent brand Moda Living. Our new proposition will be designed around Moda's core principals of customer service, leading technology, strong ESG credentials and a focus on delivering outstanding health and wellbeing offerings to its residents.
Unlike traditional rental, Casa by Moda residents won't need to pay deposits and pets are more than welcome. With a technology-first approach, our residents will have access to the MyCasa app, enabling quick and efficient contact with the virtual concierge and access on demand services from logging maintenance issues to booking a dog walker. We also provide true security of tenure on long-term renewable leases for up to three years.
Casa neighbourhoods aim to create social, integrated and safe communities. Organised resident events such as community barbeques, food and drink pop ups and mental health workshops will allow people to mix with their neighbours, and community-led groups will bring like-minded people together. From running clubs or book cubs to baking and board game groups, our teams and technology will enable residents to access and engage with the community around them.
Technology also enables Casa homes to give a strong environmental performance, through its partnership with Utopi. All new homes will be fitted with environment sensors that will monitor the performance of the buildings, measuring everything from room temperature to air quality and light pollution. The technology serves the dual purpose of making sure homes are at the optimum living conditions for residents, and ensuring the building is performing as efficiently as possible.
In a UK first for the UK SFH sector, Casa by Moda will achieve true vertical integration. Moda's parent company, Caddick Group, are delivering the platform as well as co-investing alongside leading global institutional capital. The platform will be managed by the single family housing division of Moda Living.
Our new proposition will deliver much needed and price accessible housing across the UK, defined by Moda's operational foundations of a digitally enhanced lifestyle with best-in-class service and a focus on healthy social communities for a better living experience.
We have already secured sites with space for 1,000+ new homes, and the brand plans to welcome its first residents in summer 2023.
With secured capital from a leading institutional investor behind it, our land acquisitions team are actively looking for further sites across the UK, targeting areas in need of new housing with space for 50 homes or more.
Our Head of Acquisitions, Rob Gill, said: "Casa by Moda has been years in the making, and we are thrilled to be able to share this terrific new venture with the public. We're already progressing a number of sites so we can start delivering new homes as soon as 2023.
"Our locations are well connected, close to good schools, leisure and retail, as well as being just 40 minutes from key cities across the UK. Because we're backed by a leading investor we are able to quickly progress new site opportunities with the aim of growing the Casa brand across the UK."
Our Marketing Director and Head of Wellbeing, Lydia Eustace, said: "Casa by Moda will raise the bar for rental in the region, creating beautiful new family homes for rent. Our aim is to address the shortage of high-quality homes and improve the experience of residents let down by the current market.
"Changing the way people live for the better, all our residents will be offered on demand mental health services, access to wellbeing workshops and the opportunity to regularly connect with their neighbours. We know that 61% of renters feel lonely and that doesn't need to be the case. By connecting our communities together and offering secure tenancies of up to three years, we're able to create long-term, integrated neighbourhoods."