Moda partners with Knight Frank to produce BTR Resident Experience Index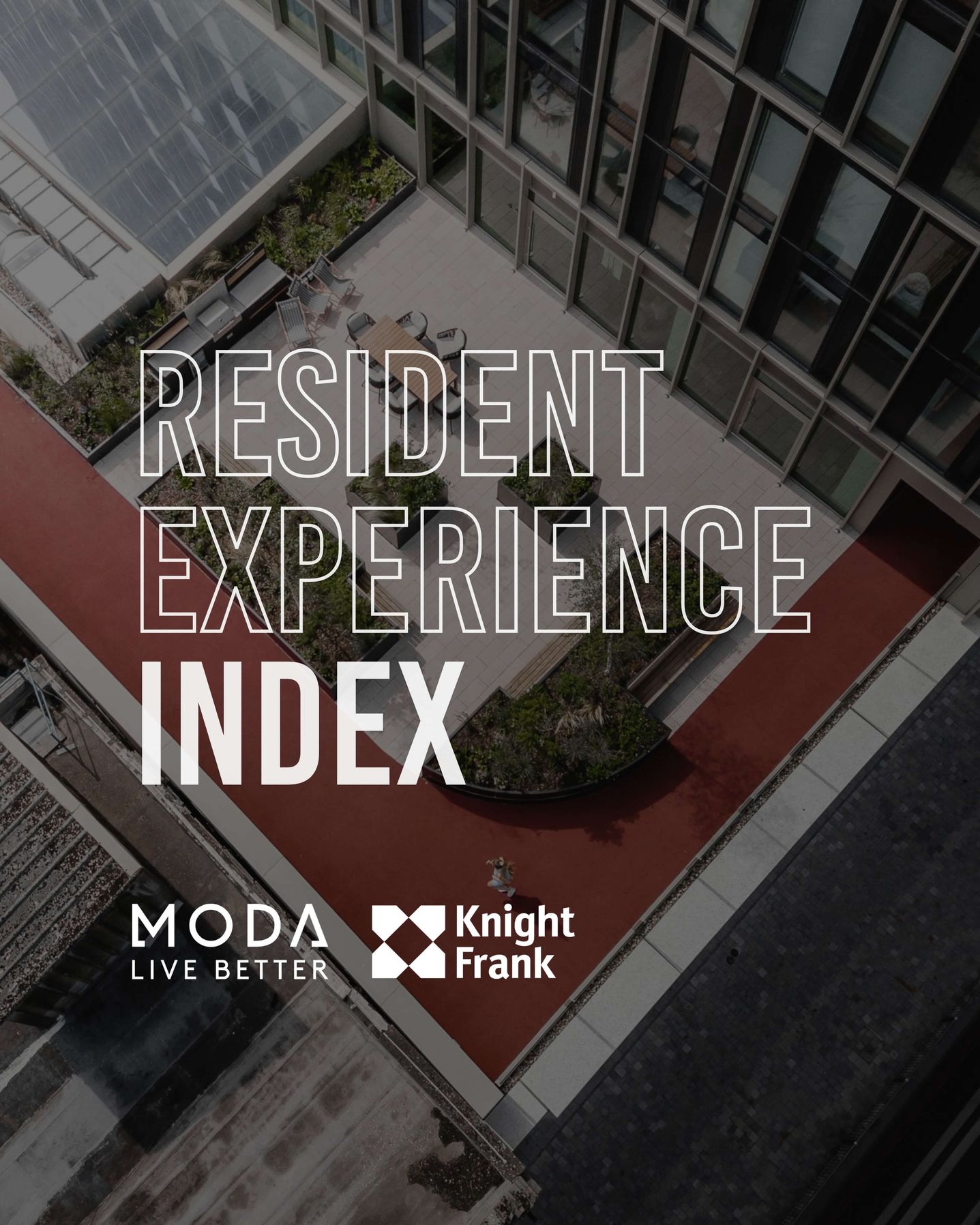 We've partnered with global property consultants Knight Frank to produce a game-changing piece of research to define what 'best in class' looks like across the BTR sector.
Collecting data from 247 BTR schemes across the UK, the BTR Resident Experience Index is the first of its kind and provides a unique insight into the key factors that drive resident satisfaction.
The analysis underpinning the index provides each scheme with a resident experience score, which will allow investors, developers and operators to understand the impact that location, design and satisfaction can have on the lived experience of their residents, and the impact on operational performance.
A clear link was found between higher quality, well-located and sustainable schemes and overall resident satisfaction.
Researchers at Knight Frank identified 21 unique social and economic indicators or 'features', grouped into six categories, which they believe influence residents' experience of living within a BTR development.
The six categories are:
• Quality of scheme
• Affordability
• Accessibility
• Sustainability
• Health and wellbeing
• Tenant satisfaction
Considerations in each category include features such as amenity provision, walkability, energy costs, energy efficiency, air pollution and local crime levels.
All of Moda's operational schemes have Band A Resident Experience Scores, highlighting us as a leader in the sector. Analysis of Moda Living's operational data also reveals above average lease-up rates, rental growth premiums and strong renewal rates. The high resident experience scores at Moda Living's schemes are likely to be a key contributing factor to the operator's excellent operational performance.
Oscar Brooks, Executive Director at Moda Living said: "At Moda Living we are dedicated to delivering the best possible experience for our residents. Building a lifestyle into the neighbourhoods we're developing and then operating long term is fundamental to every decision we make across the business, and we are keen to work with industry partners to define and quantify what a fantastic resident experience is to ensure those decisions are always the best ones for our communities. As a relatively embryonic sector, it's about working together to uncover key data and trends which will lead us to a happier, healthier rental cohort.
"It's been fantastic to work with Knight Frank on what we hope will prove a valuable steppingstone towards that definition and look forward to working with the team in the months and years to come to evolve the Resident Experience Index into a model that will deliver valuable insight to industry peers, stakeholders and, crucially, our residents for the long term."
Lizzie Breckner, Head of BTR Research at Knight Frank said: "The significance of resident experience in Build to Rent cannot be understated. Our research shows that resident experience drives operational performance by maximising occupancy and income while also reducing costs. This analysis establishes what best in class looks like by identifying commonalities between the top rated schemes. This information is game-changing; for the first time it allows us to accurately quantify the features that will ensure a scheme delivers top resident experience."
By conducting its analysis, Knight Frank has been able to pinpoint the exact specifications that will deliver the highest satisfaction for residents. "This is important," added Lizzie Breckner, "because it can be used to inform site selection, design and management strategy. The results of the index are not set in stone as the elements relating to resident experience can change over time. We can use this analysis to understand how both individual schemes and the sector can improve."
Read the full report here.