New sculpture for Hove Plinth funded by Moda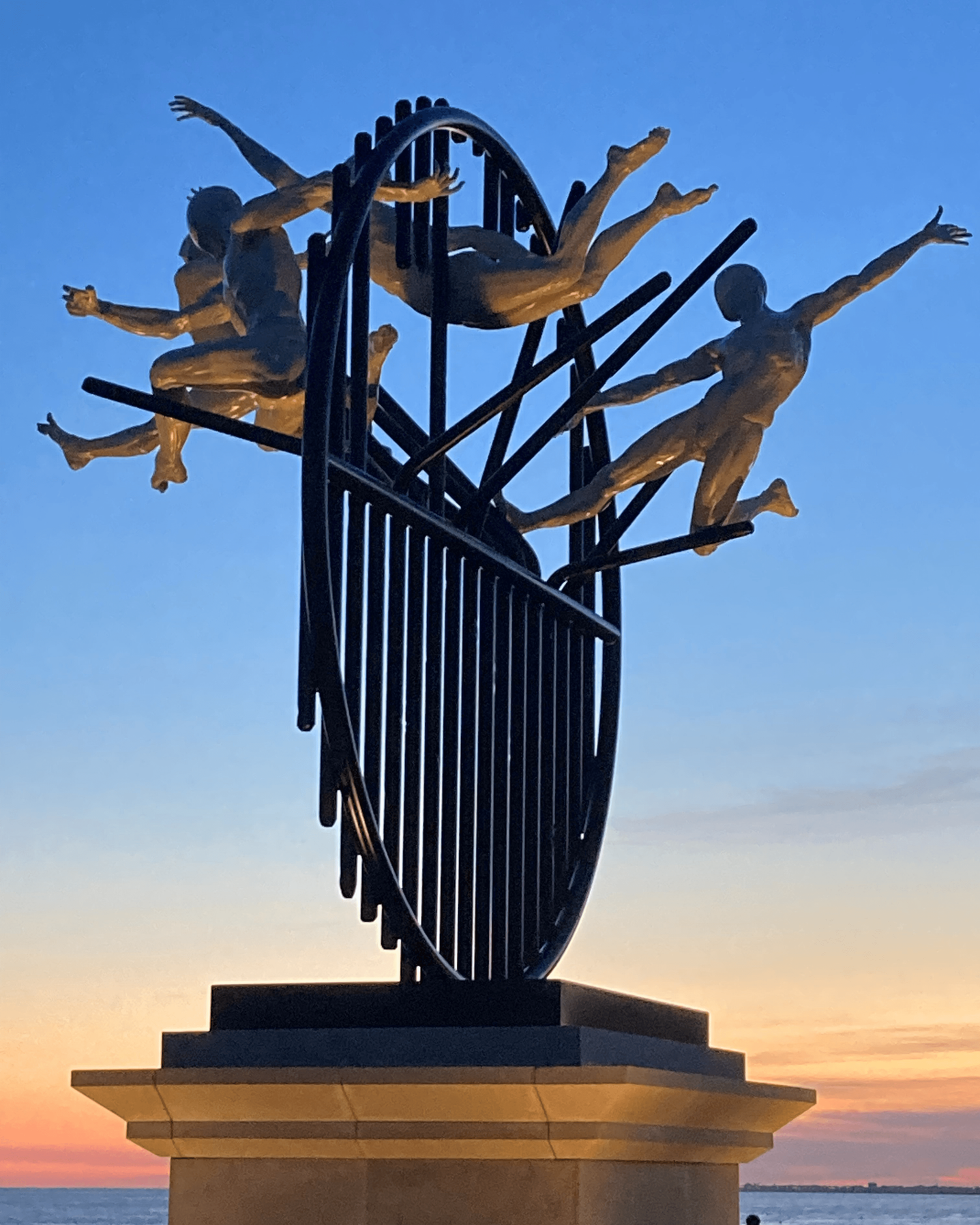 'Flight of the Langoustine', a monumental new sculpture from Pierre Diamantopoulo, has been installed on Hove Plinth following a national call to artists, and made possible through funding from Moda Living!
Inspired by the success of the Fourth Plinth in London's Trafalgar Square, Hove Plinth was created in 2018 following a major community effort led by Hove Civic Society. Located on Brighton & Hove's historic seafront, the plinth's aim is to showcase a range of artists over time and was made possible thanks to voluntary work and contributions from local residents, businesses and grant funders.
Created by acclaimed Brighton based sculptor Pierre Diamantopoulo, the sculpture depicts four life-size figures leaping for freedom through broken steel bars. The idea for the piece of art was born after Pierre found a discarded and mangled lobster pot on Brighton beach. In his imagination, the washed-up object that had seemingly helped the lobsters escape from the ocean translated itself into a wider story of human exodus and release – a dash for freedom. The theme of quest for freedom will invite many individual interpretations and the exuberance with which the figures break through the barriers is testimony to hope and the possibility of change. Diamantopoulo has been working on the sculpture for several years and describes the figures as "at once profound, frivolous and boisterous, occupying the air like a flock of birds and inspired by modern dance choreography".
Helmut Lusser, Chair of Hove Civic Society, said: "Cities need public art for all of us to enjoy. I am delighted that the Society for the second time has been able to contribute a major piece of public art to our City. Let this be the start of an open air art gallery for all of us that live, visit and work in this wonderful city."
Lydia Eustace, Marketing Director at Moda, said: "Community is at the core of everything we do at Moda, so it has been a great pleasure to support such an incredible platform for art in Hove, ahead of the opening of our new neighbourhood. As a long-term neighbour to our surrounding communities, we are committed to creating spaces that are activated and encourage wellness and engagement."
Opening for reservations later this year, Moda, Hove Central will be a multigenerational neighbourhood featuring more than 820 new homes for rent, 564 of which will be build-to-rent apartments. Around 60% of the new neighbourhood on Sackville Road is made up of new landscaped public realm and amenities including cafes and retail offerings, all professionally managed by Moda to curate a safe, clean district for the Hove community to enjoy.
**For more information on Moda, Hove Central visit here. **